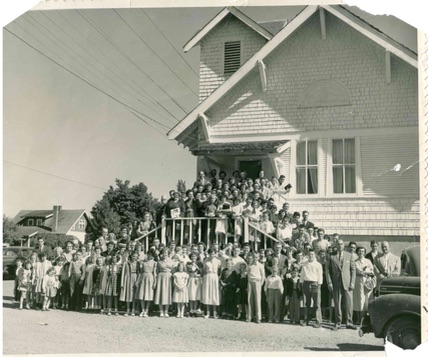 Dishman Baptist Church was founded on May 31, 1953 when Lewis Steed, a missionary from the Oregon Washington Baptist General Convention, led a team of 40 people to organize a Baptist mission at the corner of Argonne and Valleyway in Spokane Valley. The church experienced explosive growth in the first few years and was instrumental in planting several Southern Baptist churches in Idaho, Montana, and Washington.
Over the last 67 years much has changed and people have come and gone. The one thing that has remained steadfast here at Dishman is our conviction that the leadership of Jesus Christ, the Word of God, and the truth of the Gospel is the impetus behind every effort that we undertake. In his first annual report on Dishman Baptist Church Pastor Steed wrote "The blessings of the Lord on our work is truly a great reward for our little faith. It would have been impossible from a human standpoint to believe to believe we could accomplish this much, but with God all things are possible. This church is a real testimony to what God can do if people will follow His will and be dedicated to His cause."
We look forward to continuing to glorify Him here in Spokane Valley and to serve Him in any way that He sovereignly directs.